The Community Engagement and Outreach Program (CEO) is set to establish a robust offering of experiential learning and service-learning options for NMSU Aggies. The goal is to connect students with organizations for volunteerism and in the future, to bring a variety of service-learning options in collaboration with academic departments. The program welcomes any NMSU staff or faculty member to engage and support students in this initiative.
Volunteerism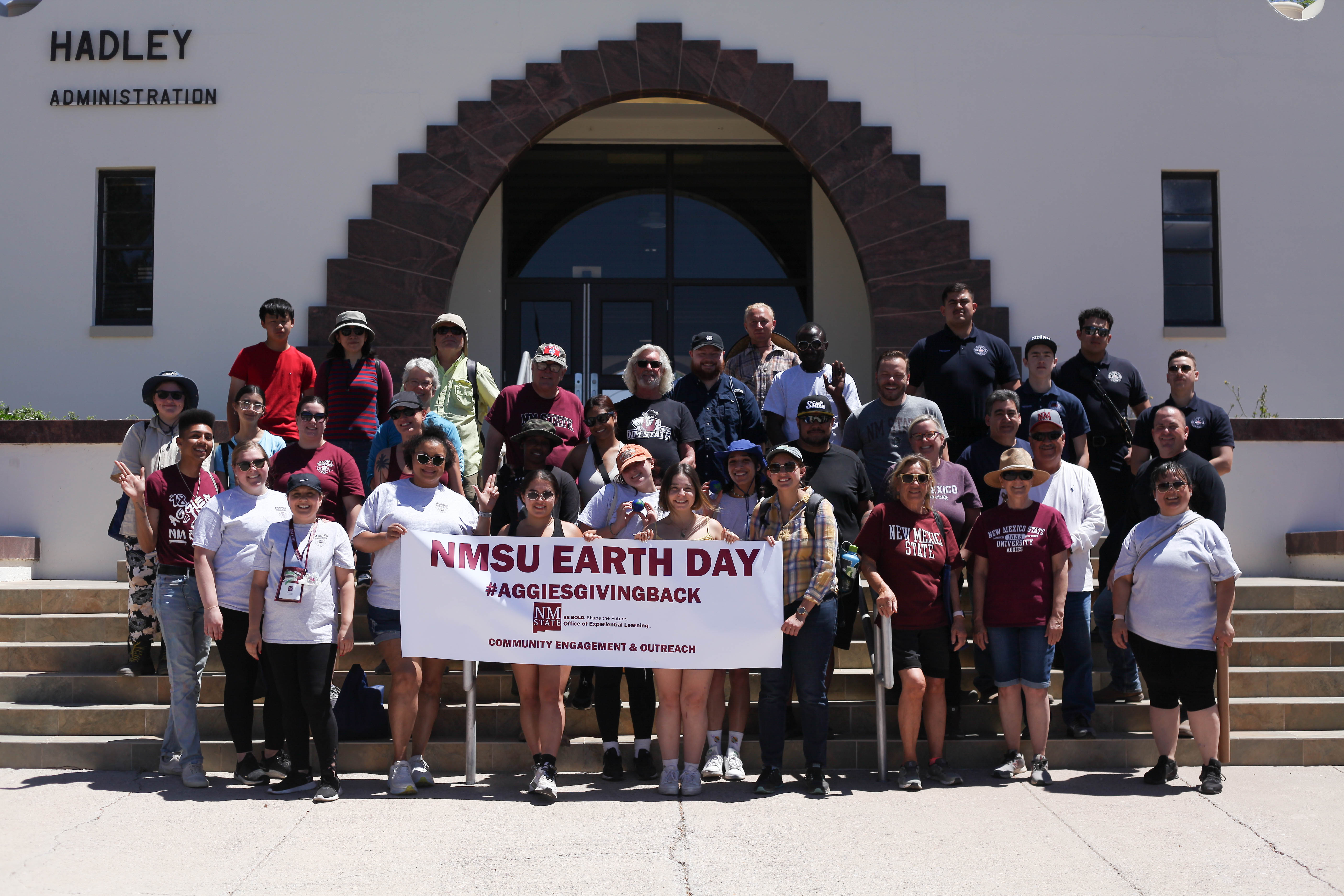 Aggies Giving Back is the OEL Community Engagement motto that we hope spreads goodwill and positivity and lets everyone know that NMSU students and staff care about paying it forward to our local communities. Aggies were able to get a head start on giving back in the fall of 2021 by volunteering with the New Mexico Senior Olympics and Bridge to Health Program. Aggies showed up for our community in their time of need.
The first stage of the CEO Program is to offer volunteer opportunities, but our goal is to expand into service learning by connecting academics with employer partners for class projects that will serve communities. A few CEO volunteer events that Aggies can participate in for Fall are
Philanthropy Fair November 15th
For more information on Community Engagement volunteering please visit our website at https://oel.nmsu.edu/community/community-engagement-and-outreach.html or call us at 575-646-1631.
To promote volunteer opportunities for your organization or an upcoming event, please email ceo@nmsu.edu with information about the organization/event, the volunteer opportunities, dates and times, contact information, and what jobs or positions you are needing volunteers for.
Aggies Giving Back
Interested in volunteer opportunities in our community?
The following organizations are always looking for volunteers who want to give back:
City of Las Cruces
To volunteer with the City of Las Cruces, interested participants must take the Volunteer Orientation. This can be done by attending a session at City Hall or one of the on campus sessions. To register for orientation with the City of Las Cruces click https://lascruces.samaritan.com/custom/502/volunteer_home.
Animal Services Center of the Mesilla Valley
Our local animal shelter is always seeking volunteers to assist with a variety of areas within the shelter. To become a volunteer with ASCMV, you will need to complete the application and submit, via email, to Yoli Jurado at yjurado@las-cruces.org. You can find out more about the volunteer activities with ASCMV by visiting https://lascruces.com/top-10-ways-you-can-help-animals-by-volunteering-at-the-animal-services-center-of-the-mesilla-valley-ascmv/.
APPLICATION: ASCMV-Volunteer-Application-August-2021-NEW-
Asombro Institute for Science Education and The Chihuahuan Desert Nature Park (CDNP)
Located on the NMSU campus, Asombro is a nonprofit organization dedicated to increasing natural science literacy through engaging, place-based education.  To achieve this mission, they serve more than 22,000 K-12 students and 1,500 adults in New Mexico with hands-on, inquiry-based science education programs each year. Programs take place in classrooms, schoolyards, and at their outdoor classroom, the Chihuahuan Desert Nature Park north of Las Cruces, New Mexico. There are many opportunities for you to help Asombro serve the community.  No experience is necessary.
They are looking for volunteers to assist a science educator in the classrooms, to help out on field trips at the CDNP, Assist at public programs, and join the CDNP Trail Keepers for a Day at the National Park.
Please contact amy@asombro.org or call 575-524-3334 for more information. You can also view details on all Asombro volunteer programs at  https://asombro.org/how-to-help/#volunteer
Aggie Cupboard
Interested in volunteering on campus? The Aggie Cupboard welcomes volunteers to assist with food distribution every 4th Tuesday of the month. No sign up is needed. Volunteers should arrive at Preciado Park between 11:30 am – 11:45 am in closed-toe shoes. If you are interested in volunteering at the Aggie Cupboard weekly distribution center, you must take a 90 minute training. For more information on volunteering at the Aggie Cupboard contact aggiecupboard@nmsu.edu.
Past Events